Repair Services
25 years experience in meeting your Pump Service and Repair needs.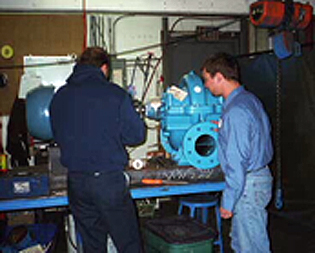 High Quality and Workmanship
Full Service In Shop or in Field
24 Hour Emergency Service
Safety Oriented
24 Hour Turn Around on Tear Downs
---
Our Technicians are Equipped with State-of-the-Art Technology
At Industrial Pump we have made the commitment to incorporate the newest and best technology available in our industry to better serve the need of our customers. We service Rhode Island ( RI ), Massachusetts ( MA ), Connecticut ( CT ) and New Hampshire ( NH ).
Some of the technology we have available is featured below:
Laser Alignment

We offer on call or preventive maintenance Laser Alignment

Temperature Monitoring

Analysis of bearings, boiler feed pumps and other temperature problems.

---

Flow Meter

Our strap on flow meter is available for in-field use. We handle most pipe sizes and materials.

Vibration Analysis

Helps our technicians to troubleshoot problems fast and accurately.
Service Contracts
Proper maintenance by trained professionals can improve reliability of your pumps, motors and related equipment. Industrial Pump Sales and Service offers service contracts and maintenance programs for all your pump needs.
Here is what our customized inspection and maintenance contracts will do for you:
Improve reliability and dependability
Keep units in peak operating condition
Lower owning and operating costs
Extend pump and motor life
How often will we do the inspection?
No more than necessary, each installation is different, so we work with you to determine how often a complete inspection is required and what maintenance schedules should be followed.
What will we check?
Bearing condition
Vibration Levels
Belts & Pulleys
Base condition
Gauges
Alignment
Seal and/or Packing Condition
Oil Levels and Greasing
Temperature Readings
Balance
Custom Pressure Feed Systems
We can design, build, and install a new single or multiple pump system. We can retrofit it to install within your existing piping or make it to your desired layout. We can make the system out of any materials desired, including cast iron bronze fitted, all bronze, all iron, or all stainless steel pump materials. Piping can be PVC/CPVC, copper, steel, cement lined ductile iron, or stainless steel. Each system is prewired to motor starter boxes with pressure switches or VFDs with accompanying pressure transducers. Give us a call with your requirements and we'll be glad to work up a quote for you.
Boilerfeed & DA Systems
We offer top-of-the-line systems from Fabtek-Aero, including units with steel tanks or complete stainless steel systems. Let us know what you're looking for and we'll be happy to quote a new package for you. Our Fabtek all stainless steel pricing is usually about the same as the other guys' cast iron or steel systems.